Get the FREE ebook! The Ultimate Guide to Office Wellness!
Live better work better, feel better!
Tips, tricks and hacks for making your days at work healthier, happier and more productive

Simple strategies that anyone can start using this week

Ramp up your productivity through focusing on better health at work
Why get a standing desk?
Standing desks are becoming popular as a way to help us sit less, with lots of new research showing that sitting as much as we do is not good for our health.
This means you can stand while working and free yourself from the slouched posture complete with neck and back pain so many of use are used to. Sorry, the high heels will have to go! Instead of high heels, you will need to be wearing flat, supportive footwear.
I have a confession: I hate sitting at the office.
I don't like being forced into one position, leaning forward, aching and feeling chained to my desk. Not only do I hate sitting at the office, but I know that sitting is really only half the battle, as standing— even at a desk — is more conducive to taking breaks, staying hydrated and getting moving (and you can imagine the benefits that moving just a little bit more during your work day can have).
Fortunately, if you can get yourself a standing desk, of whatever description, you can stop worrying about sitting correctly, slouching and remembering to get up for the rest of your working life. This particular way of working allows you to burn calories while working. Oh, and it can help you be more productive in your work.
I know, sounds like some sketchy infomercial from a shopping channel at 3AM. It's not- it actually works. It's helped many people free themselves from pain — just check the tweets below:
Back pain:
@therealsamwize Since switching to a standing desk my back is so much better.

— James 🇹🇭 (@JamesSLock) March 22, 2017
 Productivity & Improved Mood at Work:
I really need to invest in a standing desk. So much more productive and comfortable

— Justin D. Enger (@JustinDEnger) March 31, 2017
using a standing desk has given me a lot of energy and helped keep me awake. never knew sitting was sapping my energy so much before

— Mizaru (@mizarusketch) March 21, 2017
So how does a standing desk help?
Great, another "gadget". I know, it sounds like the latest gadget/fad, but standing desks are the real deal. Our bodies are not made to sit for all the time that we do nowadays — just think, working, watching TV or Youtube, eating, driving to work (the list goes on!). It's a far cry from our hunter-gatherer roots of staying on the move to survive.
So what where did it all go so wrong? Sitting! A few decades ago, the modern-day computers were born, the digital revolution began, and so we advanced from operating machines in factories to operating a machine at our desks. Then along came the internet, added new features to what computers could do (see 'e-mail'), and our working lives progressed to where we are today.
But, our bodies cannot cope with how we're now living and working. As Dr. Kelly Starrett puts it, we spent 200,000 years moving but in less than 200 years we have all but stopped.
So, instead of moving for survival, we've become a sedentary species "addicted" to sitting, spending as much as 13 hours a day doing so.
The government continues to recommend 30 minutes of physical activity a day, but spending 8 hours sitting might actually cancel this out.
Clearly, something's not right. Standing desks, or more correctly 'sit-stand desks', are an attempt to go back to working and living how we're designed to, allowing us to tap into our physical potential and start living healthier and more productive lives instantly.
All sitting is bad?
No! We still need to sit, but to be healthy, think of it as more of a luxury than a necessity (check out Get Up! for a fantastic insight into what sitting is doing to us and solutions for it). I prefer to switch between sitting and standing while working.
Why is that? Although not perfect, the fact that most of us have to be at an office and, more precisely, at a computer on a desk, changing between sitting and standing is the best thing we can do. What the experts call 'postural variation', which is essentially just changing your posture, is necessary for correct use of a standing desk.
The other great thing about sit-stand workstations is that you can change as often as you like — it gives the choice to take control of one aspect of your otherwise controlled working day.
Disclaimer: standing up while working does not automatically mean that you will feel no more pain or discomfort. However, even if you stand for a small part of your working day (1 hour over the whole day), it's likely to lead to more breaks, more activity, and more productivity, all from making that simple change.
What about pain from standing all day at a standing desk?
Pain from a standing desk is certainly possible. Like anything in life, the phrase "everything in moderation" still stands true (pardon the pun!). I'm not saying that standing while working is a magical elixir and cure-all for every one of life's ailments— a percentage of people will find that a standing desk makes their low back pain worse, and those that those don't have any pain might get some if they stand for too long or without the right footwear.
Why is that? Because standing in one place all day is not that different to sitting if we don't change positions often — it's the movement and changing positions and postures that our bodies crave. As with sitting, our bodies can't handle being still for too long. There is research that mentions some people not getting on with a standing desk, although this is usually because of incorrect footwear (think 'high heels') or simply not taking breaks.
Here's a great read on the pros and cons of the health benefits of using a standing desk.
Personally, I have learned when and how to stand for my most productive work, as I can stand for several hours without issue, but I know that is because I take regular breaks and don't have any kind of pain to start.
Back pain from a standing desk
@mcbio316 I had the worst back pain after using standing desk for 6months. https://t.co/e2AAEoFIZ6

— JT (@thejadedtrader) March 22, 2017
But it's hard to know what type of pre-existing problems this person had and whether they used them as per recommended guidelines (see below):
The #Ergonomics of prolonged standing #standingdesk #wednesdaywisdom #prevention #injury #backpain pic.twitter.com/SK5UpaK8Vz

— Darcie ergonomist (@DJAR) March 22, 2017
Tips for the Perfect Posture for a Standing Desk by Tara Vaughan
A few pointers for our fellow standing desk lovers. #SportsMassage #SoftTissueTherapy #PhysicalTherapy #SportsInjuries #StandingDesk #PainFree #Focus #Fitness #Rehab #FitFam #Posture

A post shared by Tara Vaughan | Sports Massage (@misstvaughan) on
So working at a standing desk is overall better for my health: do I ever get to SIT anymore?
Okay, so if we cut down on sitting while working, you're left with plenty of time to sit the rest of the day:
Breaks — These feel like you've earned them if you've been standing most of the day. They are also a lot more appreciated after being on your feet.
Eating — You can still sit when you eat. But you can stand, too!
Evenings — Yes, you can still sit and watch TV or check your Instagram feed on your smartphone sitting down. You might want to try sitting on a yoga mat on the floor to have a break from the "sofa slouch" most of us adopt.
Driving — Not to worry, chair lovers; driving is still, for the foreseeable future, a sedentary activity. It might be some time before that changes (but you could of course cycle, run or stand on public transport for a more active commute).
How come a standing desk can help me to burn calories?
Because any activity other than sitting still burns calories.
Dr James Levine, one of the main proponents of sitting less, explains that just about anything other than sitting burns calories (even fidgeting or chewing gum). Moving vigorously tops the list, but standing still uses a heck of a lot more energy than sitting; it is what Levine calls 'non-exercise activity thermogenesis' or NEAT for short.
Sign up below to get my FREE e-book!
Live, work better, feel better!
But I can't give up my ergonomic chair for a standing desk
Okay then, don't try a standing desk! Easy.
If you're happy with how you work, your energy levels are good all day, and you don't see any room for improvement, then keep doing what you're doing —nobody's making you work standing up. However, if you've been struggling with low back pain from sitting, feel unproductive, have very little energy throughout the day and feel completely bored at work, what have you got to lose? If you want to improve your working today, why not give it a shot for 30 days?
TRY IT: If after 30 days you haven't noticed a marked improvement in your quest for a better life, then go back to slumping in the chair. It's hard to say if something is for you or not if you don't give it a proper shot. Your body has to adjust from sitting and resting while you work to standing and using more energy, which can take anywhere from a few days to a few weeks.
If you're not yet able to get a standing desk, just work on MINIMIZING sitting time and see how your body feels. Until the time comes when you can get one of these desks, keep tabs on your sitting/standing time; the more of your day you can spend standing, the better you're going to feel at work and home.
Sorry, but I'm still not interested.
Working in any shape or form is likely to involve limited or at least repeated movements. Alternative types of desk might sound like a passing fad to you, or that they are too expensive, different, etc.
All I ask is that you try one for 30 days before you go back to sitting for the rest of your working life (and beyond).
There are claims by doctors that sitting can actually cancel out the benefits of working out, but instead, I simply ask you to try a standing desk and then judge for yourself.
Take 30 days and give it a shot — break up the sitting, start standing more, change postures regularly and see how you feel after a month of doing so. If you're analytical and want numbers to help you decide, check your calorie count before and after using a FitBit, or other similar device.
Write a weekly diary entry of how you feel at work now without a standing desk and then one later once you make the transition. I think you will surprise yourself.
*If you can only afford to raise your computer from your current desk, that's still better than sitting all the time (and only costs $22, too!). Do the best you can and you will feel better for even small changes!
What types of standing desk are available and how are they different to each other?
So you're ready to get yourself a standing desk, but you don't know the difference between all the types on the market? Well, here's all you need:
Standing Desk
This is, quite simply, a high desk. So high, that you stand at it. However, you will probably find that, even with a high desk, you will need to make a few adjustments as the keyboard and monitor positions change slightly when you stand up.
Standing Desk Converter
these 'converters' are designed for existing desks and allow you to switch between sitting and standing in the same way you adjust your office chair. A smooth transition means the monitor doesn't wobble or fall off every time you go up and down!
How hard is a cardboard standing desk converter to set up, I hear you ask? Pretty easy!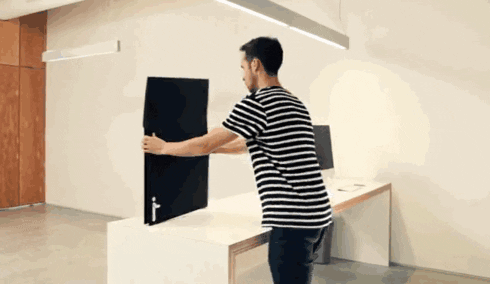 Do It Yourself $22 Standing Desk IKEA Hack: These went viral when posted online a few years back
But be warned – if you get a standing desk converter which is very small, you will end up looking down at your computer from an angle that could well give you neck pain.
In the office today and working at my new standing desk. Thanks to @StandingDeskUK pic.twitter.com/p1cfWtWF9D

— Maths of the Day (@MathsoftheDay) March 28, 2017
Manual Height-adjustable Desk
These are at the cheaper end of the scale given that they use a manual crank to go up and down. The downside, of course, is that the effort it takes to change between sitting and standing means some people don't stand up as much as they might because they get bored of winding their desk up and down all day.
I have an IKEA Skarsta desk and it works well for me but think about whether you would prefer one like this or not.
Electric Standing Desk
Now, we're getting into the premium range of products. These come with push buttons, WiFi and Bluetooth controls, as well as apps to remotely move them up and down. These start at around the $600 mark and only go up from there with all the other bells and whistles you can imagine. I have only tried these in shops as I can't afford one but they certainly look fantastic.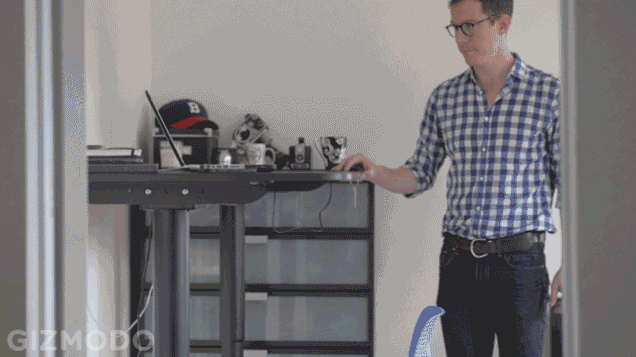 Making the transition
Maybe you're ready to try out a standing desk, but afraid it might not be for you— they are certainly an investment and many can't afford to dive in and get a state-of-the-art height adjustable standing desk. That's okay! If you can order from IKEA, or similar, you can make your own standing desk from as little as $22 (but you will need to do a bit of adjusting and fitting) — see here for the detailed assembly instructions by Colin Nederkoorn.
NO IKEA? No problem! The cardboard standing desk converter is $20 from Amazon and should work for a trial period (maybe even longer!)
Remember, even standing occasionally while working is 100% better than not standing at all— as you get more comfortable with standing, you can gradually build up the time you spend doing it.
What does the author think about standing desks?
I'm a fan of standing desks because having one suits me and my body thanks me for it. I know we are made to move, I know we sit too much, I know we are becoming unhealthier as a species — anything that helps with these is worthwhile, in my opinion.
The other reason I'm big on standing desks is because we can have an alternative to sitting while at work (provided you can get a standing desk!), changing positions when we want, and stand (or sit) for however much of our working days as we see fit. Sit for 3 hours, 1 hour or 10 minutes. It all works and is up to you. These desks also give the humble desk-based worker something crucial: more control. The control to be healthier and the control to decide how and when they are most productive — increasing control is likely to have a major positive effect on a day at work.
Regardless of whether or not sitting is indeed the new smoking, I love the idea of being proactive and trying to tackle a common problem and because I know it WORKS for me. I also know people have freed themselves from back pain and changed their outlook on work in a matter of weeks from using them.
Regardless of how you feel about standing more during your working day, we can all agree that having more freedom and variety, more movement and less time spent on our butts is better for us all.
Where can I learn more about standing desks?
If this guide wasn't enough, here are some recommended resources for more info on the topic:
Free Resources
Books and other Resources
What are your experiences or thoughts?
Have you tried a standing desk or height adjustable workstation? What was your experience like? Have you found a problem that I haven't mentioned? Do you have another standing desk hacks or resources? Tell me more!
Remember, if you find yourself on the side of the majority, then it's time to ask some serious questions!
-Steve
Feel chained to your desk? Snacking to pass the time?
Sign up below to get my weekly articles straight to your inbox.
No spam, no BS - just pure inspiration to help you stay motivated and thrive at your 9 to 5!